Supply of CO2-neutral Power Produced in Nagano Prefecture to the Venue of a G20 Ministerial Meeting
Nagano Shizen Energy Limited (representative employee: Shizen Energy), a member of the corporate group of Shizen Energy Inc. (Representative Directors: Ken Isono, Kenji Kawado, and Masaya Hasegawa; hereinafter "Shizen Energy"), is going to make a partial supply of power from its Obuse Matsukawa small-scale hydroelectric plant (located in the town of Obuse, Kami-Takai County, Nagano Prefecture) to the venue of the G20 Ministerial Meeting on Energy Transitions and Global Environment for Sustainable Growth to be held at the Karuizawa Prince Hotel on June 15 and 16. This supply will be made through Chubu Electric Power Co., Inc. (Representative Director and President: Satoru Katsuno; hereinafter "Chubu Electric Power"), and consist of CO2-neutral power produced from a local source in Nagano Prefecture.
This project will make use of the CO2-neutral value deriving from hydroelectric plants sited in Nagano Prefecture, including the Obuse Matsukawa small-scale hydroelectric plant and the hydroelectric plant owned by the Nagano Prefectural Government Corporate Bureau (Public Corporation Manager: Toru Kobayashi). Through it, Chubu Electric Power will achieve a supply of power whose generation over the period June 13 – 16 in effect will not have entailed any CO2 emissions.
In November 2018, Shizen Energy established Nagano Denryoku Co., Ltd. (Representative Directors: Ken Isono and Yasuteru Maruyama; hereinafter "Nagano Denryoku") in the town of Obuse, Nagano Prefecture together with the local government and a local cable TV company. It is pursuing the construction of a model for local consumption of locally generated electricity, to encourage an economic circulation within the local area. It is planning to include the Obuse Matsukawa small-scale hydroelectric plant that will be used for the aforementioned project as one of the sources for supply of power to the customers of Shizen Energy and Nagano Denryoku.
In the future as well, Shizen Energy and Nagano Denryoku are determined to contribute to the construction of a sustainable society through the supply of electricity from 100% natural sources that in effect entail absolutely zero CO2 emissions (CO2-neutral power), in addition to building power plants using natural energy.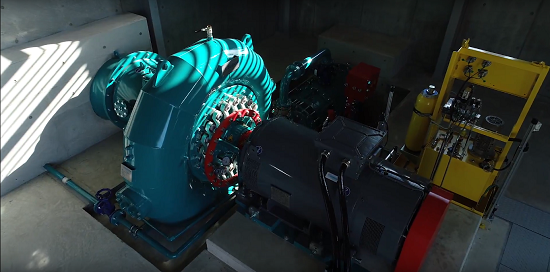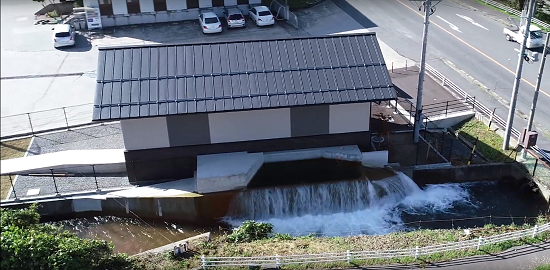 The Obuse Matsukawa small-scale hydroelectric plant:
external views of the turbine (upper) and building (lower)
Sobre a Shizen Energy Inc.
Fundada em junho de 2011 com a missão de "Mudar o Mundo com Energia", a Shizen Energy contribuiu para o desenvolvimento de aproximadamente 1.3 gigawatt (até o fim de janeiro de 2019) de energia renovável em todo o Japão. A empresa está envolvida em todos os serviços necessários para a instalação e operação de usinas de energia solar, eólica, pequenas hidrelétricas e outras usinas de energia renovável, incluindo as etapas de desenvolvimento, EPC (engenharia, compras, construção), O&M (operação e manutenção) e gestão de ativos. A empresa entrou no mercado de varejo de eletricidade em 2017 e, além de fornecer eletricidade para pessoas físicas e jurídicas, a Shizen também oferece suporte a iniciativas de terceiros voltadas para o uso e a geração de energia verde.
Headquarters: Fukuoka Ohori Bldg. 3F/6F, 1-1-6 Arato, Chuo Ward, Fukuoka City, Fukuoka Prefecture
Representative Directors: Ken Isono, Kenji Kawado, Masaya Hasegawa
Tel: +81 92-753-9834
Business: Electricity generation (IPP) with solar, wind power, small hydroelectric and other renewable energy power plants, business development, funding procurement, asset management, electricity retail for individuals and businesses