Group Company of Shizen Energy sold a majority stake on 5 solar power plants to GreenYellow in Brazil
Shizen Energia do Brasil Ltda. ("Shizen Brazil"), a subsidiary of Shizen Energy Inc. ("Shizen Energy") from Japan, and FazSol Energias Renováveis ("FazSol"), a joint venture between Brazilian business conglomerate Espaço Y and Shizen Brazil, signed an investment agreement with GreenYellow to sell a majority stake in 5 solar power plants developed by Faz Sol, totaling 4.4 MWp. 

The aforementioned power plants are located in the region of Brasilia, Brazil's political capital, and produce 7.3 GWh annually. The power plants have been operational for approximately ten months and are supplying electricity to clients in the following industries: an international airport, corporate offices, and retail chains. Negotiations began in late 2020 and the closing occurred in September of 2021. As a result of the transaction, 90% of the assets have been sold to GreenYellow; however, FazSol will retain an ownership stake of 10% in addition to responsibility for asset management.
"This is the company's first M&A transaction in Brazil. We were very careful to seek a partner with similar values before making this decision. GreenYellow, like us, is a company committed to the energy transition in Brazil and offers energy solutions only through renewable sources," according to Bruno Suzart, Shizen's country manager in Brazil.
Advocating "We take action for the blue planet" as its objective, Shizen Brazil will leverage its renewable energy power plant development and construction expertise from Japan as it continues to strive to boost the prevalence of clean energy power plants and contribute to a sustainable society in accordance with the specific characteristics of the Brazilian market.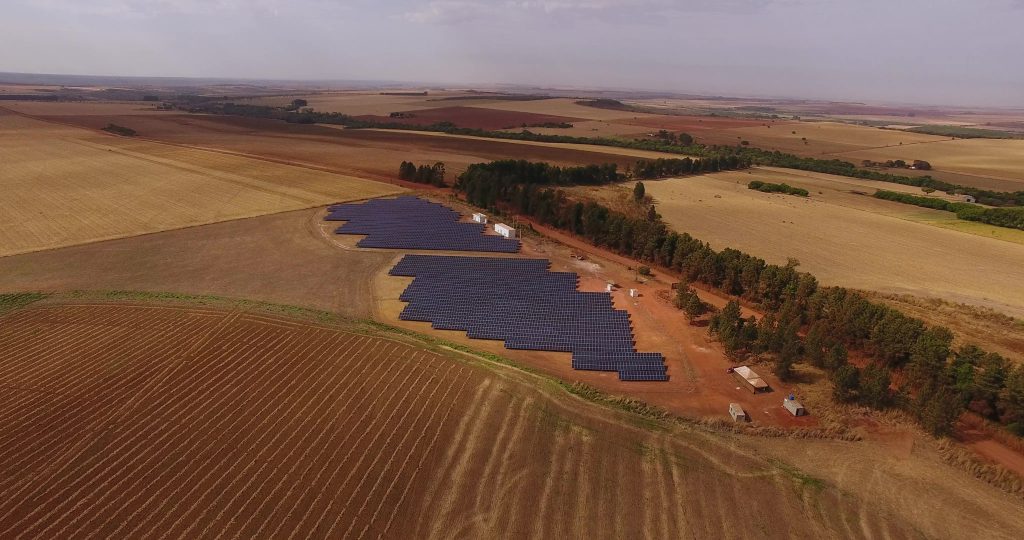 Photo: Garmatz I
■ Project Overview
Location and Output

Brasília – DF Region

Each Power Plant:

Capão Seco I: NR Capão Seco Chácara 15 – Paranoá: 462.46kWp

Capão Seco II: NR Capão Seco Chácara 15 – Paranoá: 591.60kWp

Garmatz I: NR Rio Preto Fazenda Garmatz – Planaltina: 918kWp

Garmatz II: NR Rio Preto Fazenda Garmatz – Planaltina: 1101kWp

Brasília Airport: Aeroporto Internacional de Brasília – Lago Sul: 1327kWp

4.4MWp (Total output of 5 locations)
[About GreenYellow]
Since 2007, GreenYellow combines a comprehensive view of energy with an approach customized to the realities of each client. To do so, they are present in every step of a project: design, construction, financing, management, operation, and monitoring. All to ensure guaranteed performance over time. Internationally, GreenYellow is present in 16 countries, from Southeast Asia to Latin America. They are reaching all kinds of clients, in industry and non-food industry, logistics, retail and food retail, health care, transportation, local governments, and more. 
Headquarters: São Paulo, Brazil

President Director: Roberto Zerkowski
[About Espaço Y]
Founded in 1993, Espaço Y operates multiple businesses, including real estate development, construction, call centers, among other activities. Espaço Y is a local reference in the construction, property, and telco industries. The company joined the renewable energy segment in 2018 after announcing a partnership with Shizen's Brazilian subsidiary. Espaço Y's primary expertise is developing great places to live and to do so with a commitment to social responsibility and sustainable development. 
Headquarters: SHCN 202 Bloco A – salas 201/202/204, Brasília-DF, Brazil

Representative Directors: Daltro Noronha, Flávio Barros 

Tel: +55 61-3035-0600 • URL:

https://espacoy.com.br/

Business: Property, Real Estate, Call Center.
[About Shizen Energia do Brasil Ltda]
Local joint venture company Shizen Energy Inc. and local partner MS Consultoria e Suporte established in 2018. 
Headquarters: Brasilia, Brazil

Country Manager: Bruno Suzart

Business: Project Development, IPP, Asset Management