Shizen Energy to Start Practical Business School & Audition "Green Business Producers" to Foster Business Producers to Solve Environmental Issues from the Local Community
Shizen Energy Inc.(Shizen Energy), whose company purpose is "We take action for the blue planet," will begin a business educational program called "Green Business Producers, " and has opened applications from September 9, 2022.  This program is a practical business school and audition to discover and foster business producers who can solve environmental issues through new businesses in local communities in Japan, with the aim of achieving a sustainable society on a global level.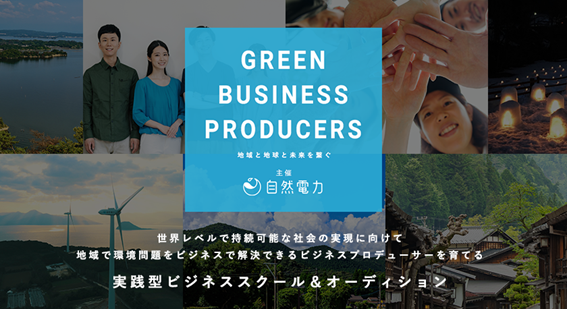 Green Business Producers official website (japanese only)
https://green-bp.shizenenergy.net/
Today, social issues are complex and intertwined, and there is no single solution that can solve these problems. Shizen Energy believes that there is a need for creative individuals who can see environmental issues from a larger perspective, but who can also dive into the local community and confront issues that are happening right in front of them, and find new paths for issues which may not have clear answers.
The Green Business Producers program is a program that will bring together people who will open up the future for their community and for the Earth, while also providing participants with opportunities to gain new business skills. The 30 participants who will be selected through a screening process will attend online lectures by leading experts and entrepreneurs in the fields of "community development," "environment," and "business" as well as fieldwork workshops in which participants will visit local communities to discover local issues and initiatives. And through these activities, the participants will nurture the ability to create mechanisms to transform local issues and potentials into new businesses.
Unlike conventional business schools, the Green Business Producers program is an audition-type program that also serves as a recruiting process, with each activity also serving as a selection process. After the three-month program, the final selection will be made, and those who pass the selection will be offered a more advanced educational program in the energy field, and will be offered a partnership with Shizen Energy, with continued support for their activities in their community. Shizen Energy also plans to provide generous support, including start-up capital, to those who wish to start their own business.
In starting the Green Business Producers program, Ken Isono, Representative Director of Shizen Energy says,"In the 11 years since our founding, Shizen Energy has built and managed renewable energy power plants throughout Japan, and has seen both the potential and the challenges of local communities. The global environmental problem of climate change can only be solved from a local approach. We launched this project with the hope of expanding the number of individuals who can take action together with Shizen Energy to solve local issues through renewable energy. I look forward to meeting fellow individuals who can take action for the future of their community and for the planet."
Shizen Energy will work together with new partners gained through Green Business Producers to solve global social issues with a local focus and contribute to the realization of a sustainable global environment.
■Program Overview
 Name

Practical Business School & Audition "Green Business Producers"

Application Period

1st  Round: September 9 – September 30, 2022

2nd Round: October 1 – October 31, 2022

*Document screening will proceed in the order in which applications are received from the first round of entries.

Program Duration

November 2022 – March 2023

Curriculum

5 online lectures and 2 fieldwork sessions

Number of participants

Approximately 30

Application Requirements

Desired Characteristics:

over 20 years old (students are also welcome to apply)
Has a strong desire to work with local people to create an    attractive town
Has a strong will to participate in the entire program
Has a strong desire to be proactively involved in the realization of Japan's carbon neutrality goals
Has participated in the online information session or watched the video of the information session (recommended condition)

Program Fee

Free

includes online lectures (5 sessions), various video lectures, and fieldwork sessions (2 sessions)(*1)

*participants are responsible for their own transportation and communication expenses to attend the online lectures.

Organizer

Shizen Energy Inc.

Lecturers

–       Naoto Kanehira (World Bank Group Human Resources Vice President)

–       Doga Makiura (Degas Ltd. Founder/CEO)

–       Akira Sakano (Zero Waste Japan Chair of Board of Directors)

–       Akihiro Sando (Renewable Energy Institute Senior Researcher)

–       Yudai Maeda (Minakami SOUL Representative Director, "GX Channel" Publisher/Chief Editor)

–       Toru Omiya(Obuse Town  Director of the General Affairs Division and Crisis Management Division)

–       So Sugawara (Green Innovation Representative Board Member)

–       Ken Isono (Shizen Energy Inc. Representative Director)

 and others

Website

https://green-bp.shizenenergy.net/ (japanese only)
*1 The curriculum is subject to change without notice. For the latest information, please visit the official website of Green Business Producers.
【About Shizen Energy Inc.】
Founded in June, 2011. With the company purpose of "We take action for the blue planet," the company's business includes development, financing, and asset management of renewable energy power plants using solar power, wind power, small-scale hydroelectric power, and biomass. Since 2016, the company has also been focusing on its overseas operations, expanding its development and power generation projects in areas such as Southeast Asia and Brazil. In 2019, the company also entered the energy tech business, offering micro-grid and VPP construction, smart charging and discharging services for EVs, and other services through its self-developed EMS (energy management system). Shizen Energy Group has been involved in more than 1 GW of renewable energy generation in Japan and overseas.
 ・Headquarters: Fukuoka Ohori Bldg. 3F/6F, 1-1-6 Arato, Chuo Ward, Fukuoka City, Fukuoka Prefecture
    ・Representative Directors: Ken Isono, Kenji Kawado, Masaya Hasegawa
    ・URL: http://www.shizenenergy.net/en/
<For inquiries regarding this press release>
Shizen Energy Inc., Public Relations Department
E-mail: se-comm@shizenenergy.net