Shizen Connect adopted by TOKYO GAS for remote electricity measurement in EV installation support service
Shizen Energy Inc.'s (Shizen Energy) energy management system "Shizen Connect" (*1) has been adopted for remote electricity measurement in "Charge Planner", an EV installation support service provided by TOKYO GAS Co., Ltd (TOKYO GAS).
 Background for implementing Shizen Connect
Charge Planner is a one-stop service by TOKYO GAS that provides corporations and municipalities which own multiple vehicles with integrated solutions to various needs related to switching to EVs and installing EV charging facilities. 
Charge Planner provides charging management services to curb the increase in electricity costs caused by the increase in the electrical contract due to EV charging. The service requires remote measurement of electric consumption, but one of the challenges of this was having to accommodate various methods of measuring electric consumption according to differences in the customer's facilities.
By adopting Shizen Connect, which supports a variety of measurement methods, it is now possible to smoothly aggregate diverse electricity measurement data to the Charge Planner service server (Diagram 1).
Future business development of Shizen Connect
Shizen Connect is an energy management system developed and provided by Shizen Energy that offers a variety of functions, including remote electricity measurement, microgrid construction by controlling energy facilities such as storage batteries and EV chargers, and VPP (virtual power plant) construction.
In response to soaring electricity prices and the momentum for decarbonization, Shizen Energy has been providing corporations and municipalities with visualization of their electricity usage using Shizen Connect. Shizen Energy is receiving an increasing number of inquiries for the use of Shizen Connect as a "component" of an organization's services.
Shizen Connect will continue to contribute to the realization of a decarbonized society through collaboration with energy companies, taking advantage of its vendor-free and multipurpose features.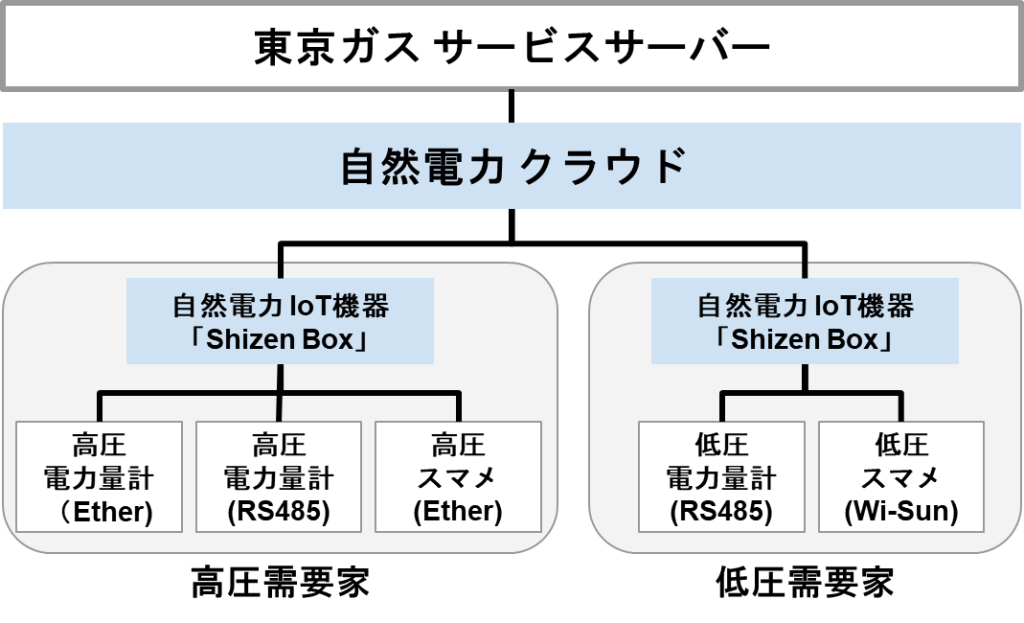 Diagram 1: Service Overview
*1 Shizen Connect:  an aggregation energy management system that collectively controls energy resources such as renewable energy power generation, storage batteries, EVs and EcoCutes. Shizen Connect can control residential solar power generation with storage batteries and  V2H equipment, as well as operation of microgrids connecting multiple buildings with transmission lines, and VVP construction of several thousand units of energy resources. Individual control and VVP control tended to be separate, but Shizen Connect provides a one stop service allowing energy resources to be utilized with multi-purpose which also  improves economic efficiency. The system can be adapted with any equipment supplier, allowing energy resources to be chosen freely without relying on a certain manufacturer.
【About Shizen Energy Inc.】
Founded in June, 2011. With the company purpose of "We take action for the blue planet," the company's business includes development, financing, and asset management of renewable energy power plants using solar power, wind power, small-scale hydroelectric power, and biomass. Since 2016, the company has also been focusing on its international operations, expanding its development and power generation projects in areas such as Southeast Asia and Brazil. In 2019, the company also entered the energy tech business, offering micro-grid and VPP construction, smart charging and discharging services for EVs, and other services through its self-developed EMS (energy management system). Shizen Energy Group has been involved in more than 1 GW of renewable energy generation internationally.
 ・Headquarters: Fukuoka Ohori Bldg. 1-1-6 Arato, Chuo Ward, Fukuoka City, Fukuoka  
    ・Representative Directors: Ken Isono, Kenji Kawado, Masaya Hasegawa
 ・URL: https://www.shizenenergy.net/en/
<For inquiries regarding this press release>
Shizen Energy Inc., Public Relations Department
E-mail: se-comm@shizenenergy.net