Shizen Energy's EMS "Shizen Connect" releases new function for digital transformation of O&M Operations
~Jointly developed with JSEO and offered to O&M providers~
Shizen Energy Inc. (Shizen Energy) together with JUWI Shizen Energy Operation Inc. (JSEO) which specializes in O&M (*1) services, have significantly enhanced the O&M monitoring functions of Shizen Connect (*2), an energy management system developed and operated by Shizen Energy, and have begun offering it to O&M providers.
In conventional O&M operations, there had been industry-wide issues with reduced work efficiency due to differences in ID management and login procedures and operability caused by the different monitoring systems employed by different customers. There were also other issues such as false detection caused by inaccurate malfunction detection in monitoring systems, and inconsistent quality of reports due to the creation of reports by individual staff members.
In order to solve these industry-wide issues, Shizen Energy has greatly enhanced this operational function, which was previously provided only as an accessory to storage battery control by Shizen Connect and corporate PPA operations.This functional enhancement was achieved based on the input of basic concept, functional requirements, and feedback on operability from JSEO, which has over 900 MW of O&M contract experience.
By utilizing this new function, O&M service providers can centrally manage multiple monitoring systems that differ among customers, reduce downtime through speedy fault detection, and automatically generate reports from the systems, thereby improving the quality of O&M services.
In addition, this functionality can be used not only for mega solar power plants, but also for corporate PPAs, storage battery control including grid storage batteries, and micro grids.
■Overview of new Shizen Connect function
・Data linked to multiple monitoring systems and centrally managed (Diagram 1)
・Visualization of measured values such as power generation and solar radiation and calculated values such as PR values (Diagram 2)
・Display of list and e-mail notification of malfunction information (Diagram 3)
・Display of power generation status by string ( Diagram 4 )
・Performance comparison before and after cleaning and mowing ( Diagram 5)
Diagram 1:  System Overview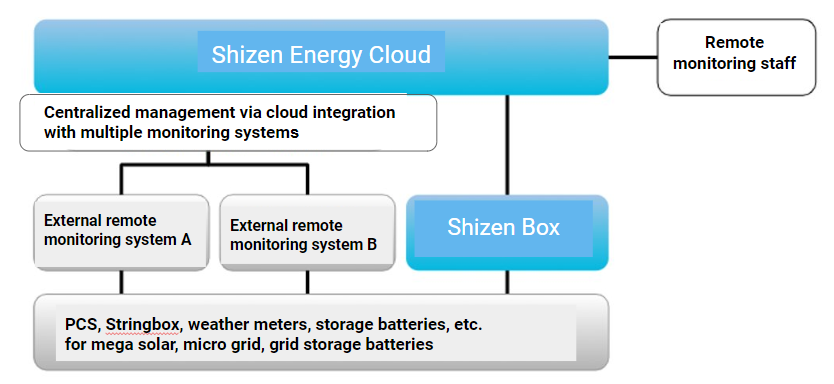 Diagaram 2:Visualization screen of measured and calculated values
Measurements of all connected devices can be displayed and analyzed. The ability to centrally manage multiple monitoring systems reduces the burden of monitoring and analysis.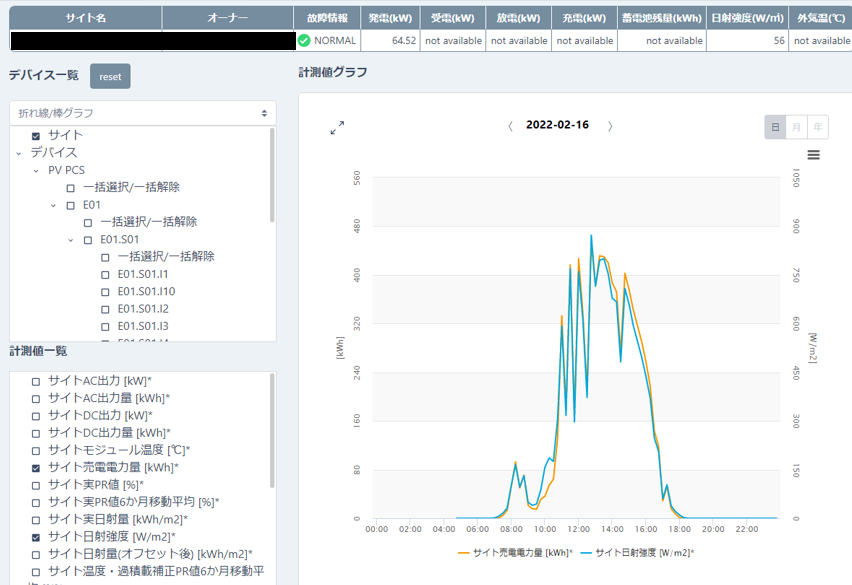 Diagram 3: List of malfunction information
Displays a list of malfunction information for the site for which the operator is in charge. Notification by e-mail is also possible.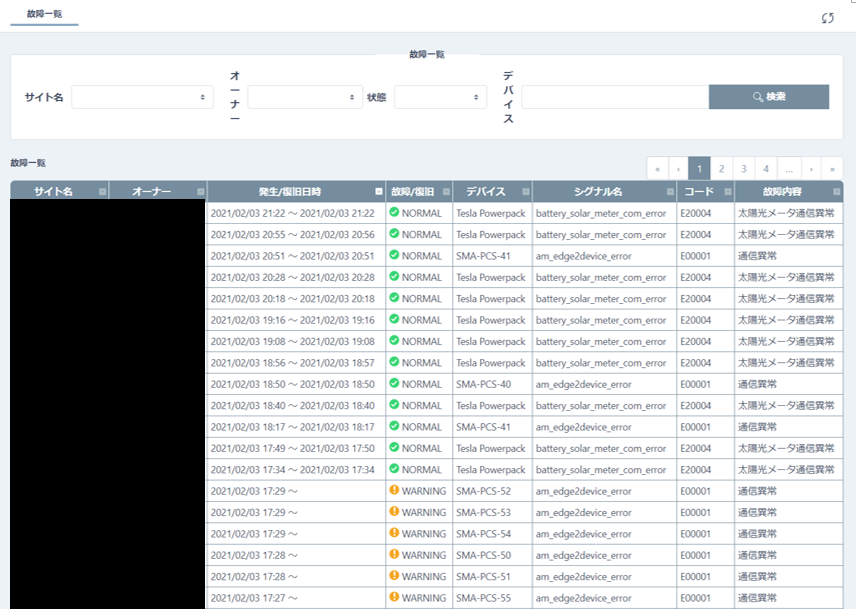 Diagram 4: Display of power generation status by string
Visualize the string generation status so that the problematic strings can be identified.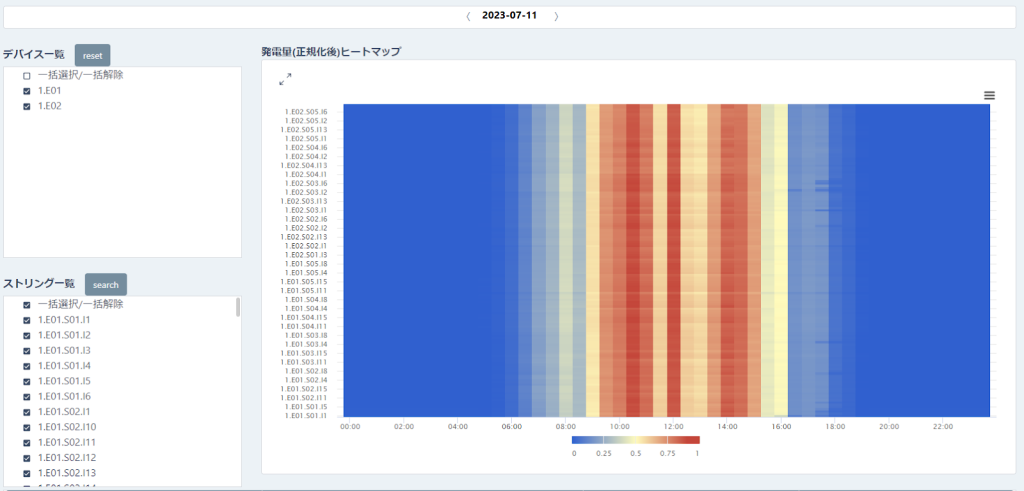 Diagram 5: Performance comparison before and after cleaning and mowing
The comparison period can be specified to see how much the power generation performance has been affected.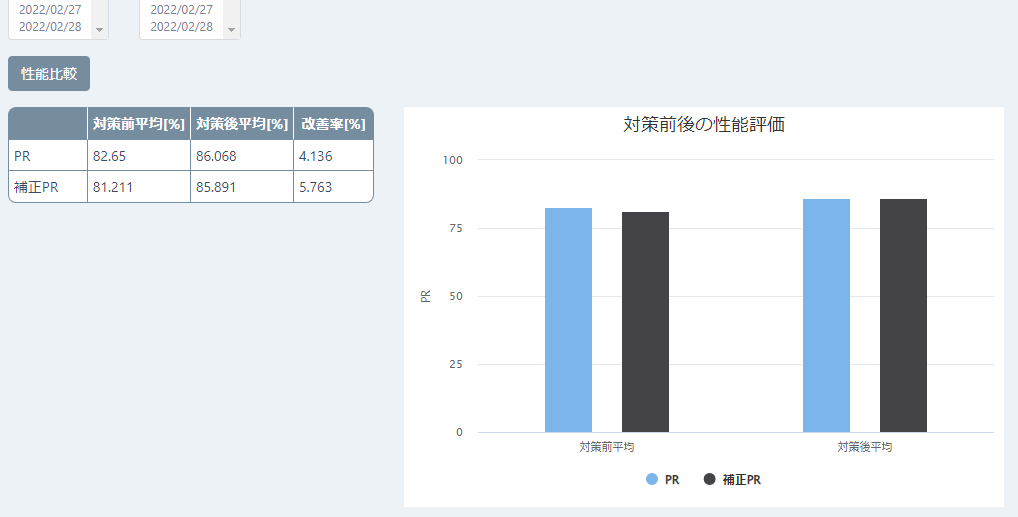 In order to "take action for the blue planet," Shizen Energy will flexibly respond to various needs such as decarbonization and strengthening energy resilience by combining digital technologies such as EMS and storage batteries with the development of renewable energy power sources that exist in harmony with local communities. Together with partners, Shizen Energy aims to realize a 100% renewable energy world as soon as possible.
*1 Abbreviation for Operation and Management, it refers to maintenance and operation services for power generation facilities.
*2 Shizen Connect is an aggregation energy management system that collectively controls energy resources such as renewable energy power generation, storage batteries, EVs and EcoCutes. Shizen Connect can control residential solar power generation with storage batteries and V2H equipment, as well as operation of microgrids connecting multiple buildings with transmission lines, and VVP construction of several thousand units of energy resources. Individual control and VVP control tended to be separate, but Shizen Connect provides a one stop service allowing energy resources to be utilized with multi-purpose which also improves economic efficiency. The system can be adapted with any equipment supplier, allowing energy resources to be chosen freely without relying on a certain manufacturer.
【About Shizen Energy Inc.】
Founded in June, 2011. With the company purpose of "We take action for the blue planet," the company's business includes development, financing, and asset management of renewable energy power plants using solar power, wind power, small-scale hydroelectric power, and biomass. Since 2016, the company has also been focusing on its international operations, expanding its development and power generation projects in areas such as Southeast Asia and Brazil. In 2019, the company also entered the energy tech business, offering micro-grid and VPP construction, smart charging and discharging services for EVs, and other services through its self-developed EMS (energy management system). Shizen Energy Group has been involved in more than 1 GW of renewable energy generation internationally.
 ・Headquarters: Fukuoka Ohori Bldg. 1-1-6 Arato, Chuo Ward, Fukuoka City, Fukuoka  
 ・Representative Directors: Ken Isono, Kenji Kawado, Masaya Hasegawa
 ・URL: https://www.shizenenergy.net/en/
【About JUWI Shizen Energy Operation Inc.】
JUWI Shizen Energy Operation is a joint venture established in May 2013 by Shizen Energy Inc. and JUWI AG – a German company that is a world leader in wind power, solar power development, and EPC. The company localizes the world's standard O&M (operation and maintenance) services to suit Japanese weather and soil conditions, and provides O&M services specializing in renewable energy power plants throughout Japan. As of March 2023, the company has received 932.5MW in cumulative contracts for solar and wind power plants. Since 2018, the company has also provided O&M services for farm-based agrisolar projects.
-Headquarters: Ichigo Hongo Bldg. 3F 5-33-10 Hongo, Bunkyo Ward, Tokyo
-Representative Directors: Tetsushi Hanayoshi, Jan Warzecha
-URL:https://juwishizen-om.net/en/