Making Electricity

Planning and Development
This involves the identification of land suitable to host a power plant, and the development of the power plant while in communication with a range of stakeholders.
Overview
We find land suited to power plants in view of the surroundings and meteorological conditions. We assess feasibility,hold discussions with utility companies and acquire the licenses required for power generation,all while communicating with people from the local community.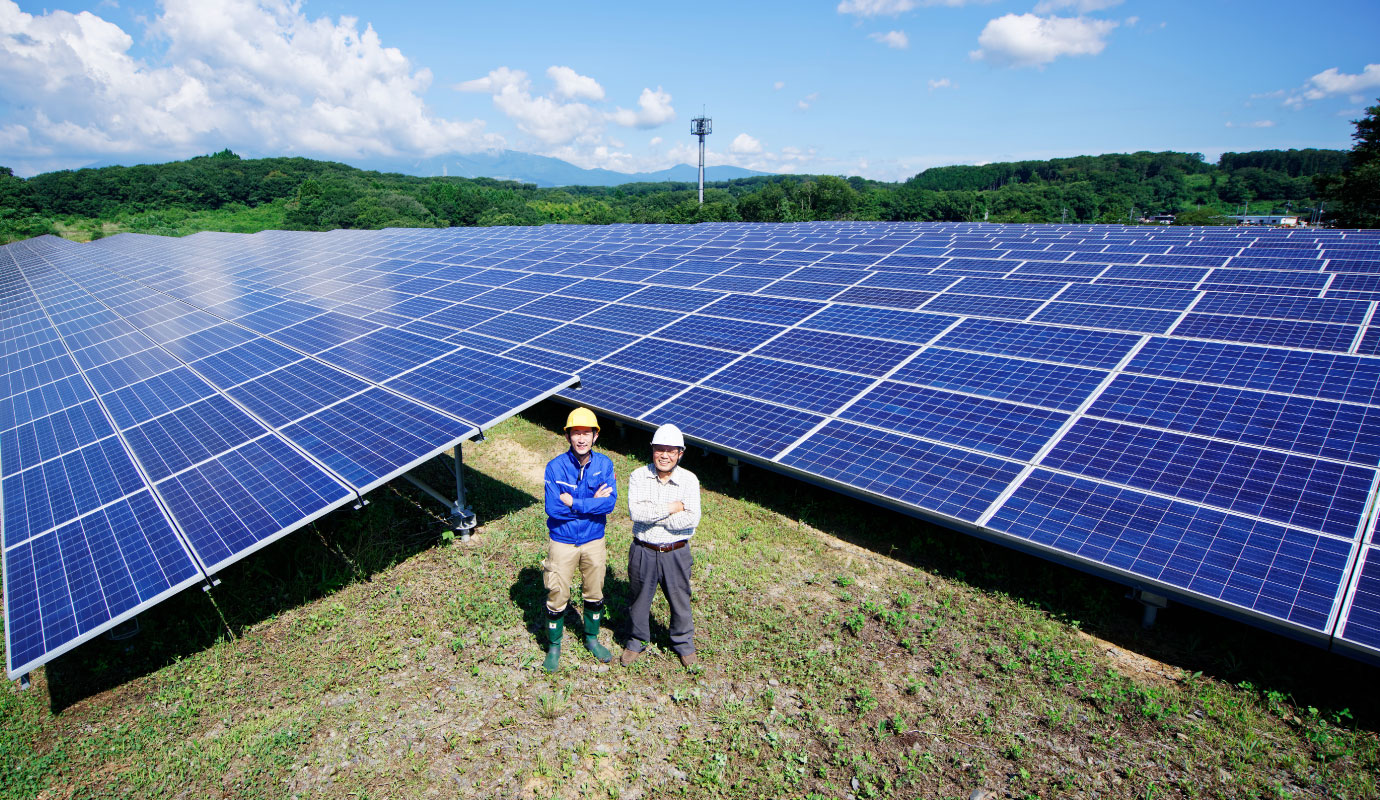 Features
Our aim is to construct power plants together with people from the local community. In each region of Japan, we design power plant suited to the land based on its characteristics while asking land owners their thoughts on its utilization and consulting with them. We offer consulting not only on photovoltaic power plants but also on wind power plants. We will also coordinate with power companies and obtain the necessary permits from authorities.
Services
The Shizen Energy Group performs all work from start to finish in an integrated fashion.
1Telephone or e-mail inquiry from customer
2Confirmation of details such as land overview by our representative (telephone/e-mail or visit)
3On-site survey (confirmation of site conditions, sunlight/wind/water flow conditions, etc.)
*Wind surveys for wind power and water flow surveys for small hydroelectric power require approximately one year.
4Basic design (layout, module arrangement and other power generator equipment, calculation of amount of power to be generated)
5Grid connection discussions with power company
6Discussions with local stakeholders
7Acquisition of permits
*For wind power plants, we will conduct an environmental assessment.
8Filing of application for facility certification with the Ministry of Economy, Trade and Industry
9Decision on business operator (if land owner will not be owner of power plant)
10Launch of construction – completion of construction – commissioning of plant
11Maintenance/management of power plant
Reference

Is your land suitable for a photovoltaic power plant?

The following is a brief checklist. Contact us to for a more through check to find out if your land's suitable.
Size of your land

A photovoltaic plant on land with area of 1.0 ha (about 5,000 tsubo) generates approximately 1MW (1,000 kW) of electricity. We currently work with owners of land with an area greater than 0.3 ha (about 1,000 tsubo). – Each land space is different. Feel free to talk to us about your land. – Ideal land includes former manufacturing facility spaces and golf courses.

Amount of sunlight

The more sunlight your land gets, the more electricity your land (or the plant) will be able to generate. Our database will assist you to simulate how much sunlight your land space actually receives over the course of a year ("irradiance")

Structures on adjacent land spaces

Ideally, there should be no natural or artificial objects such as mountains, trees and buildings that block sunlight to east, west and south of your land.

Nearby transmission lines

There needs to be transmission lines nearby your land so that generated electricity can be sent to the grid.

Land condition and registration ("chimoku")

Time needed for obtaining permits, design and construction may vary depending on land conditions and registered use of your land.
Reference

Is your land suitable for a wind power plant?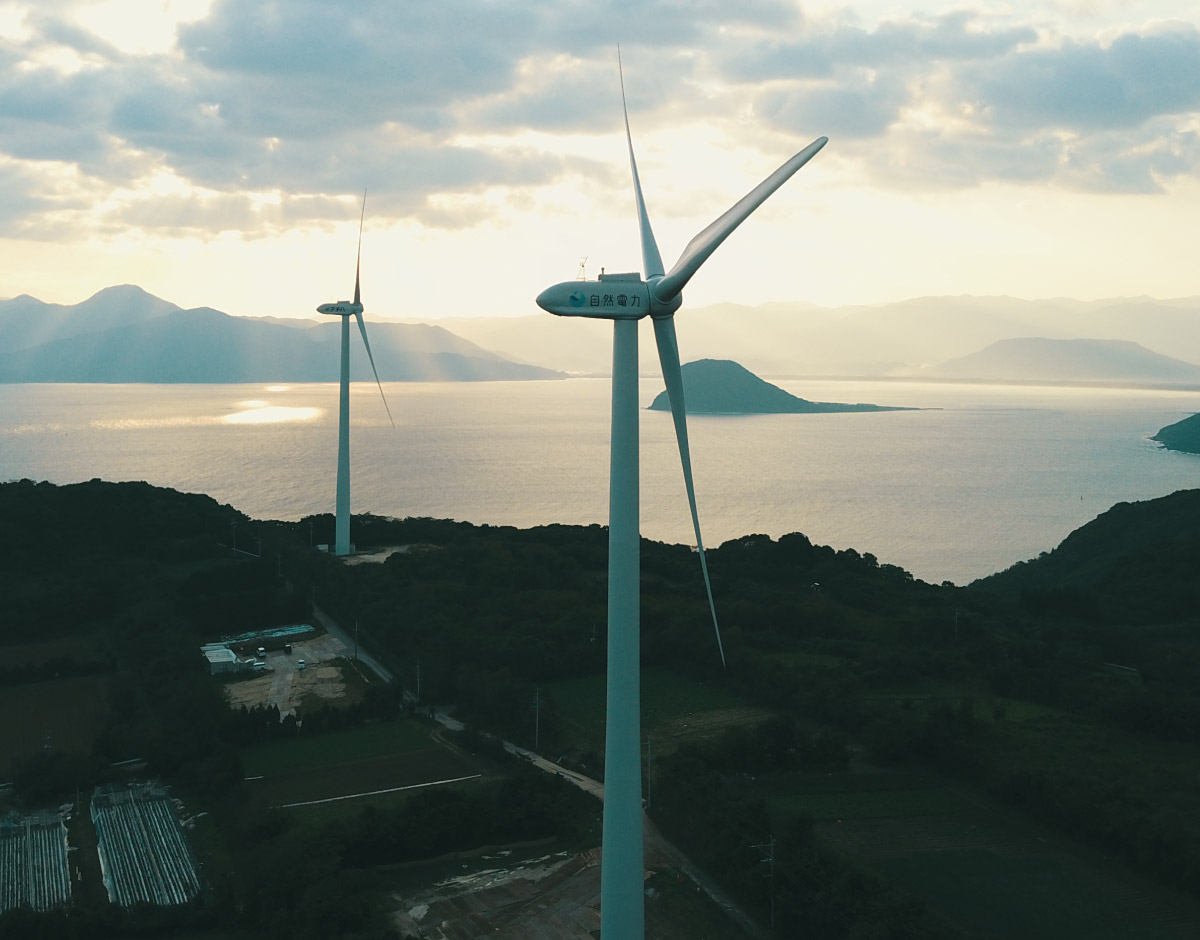 | | |
| --- | --- |
| Wind conditions | Average annual wind speed must be at least 6 m/s (at 50 m). |
| Restrictions | It must not be restricted land, such as a national/quasi-national park, protected forest, etc. |
| Installation environment | The windmill(s) must be outside a radius of at least 500 m from private houses. |
| Nearby power lines | There must be power lines nearby to transfer the electricity generated by the power plant. |
| Transportation route | Windmills are large structures. The blades can be 50 m or longer, so there must be a road suited to transportation of such large structures. |
Reference

Is your land suitable for a small hydroelectric power plant?
Types of locations
General rivers, agricultural water channels, erosion control/afforestation dams, water supply facilities, etc. In addition to the above, maintenance discharges from dams, discharged water from existing power plants, sewage treatment facilities, circulated water from buildings, etc. can be used.
Natural conditions
· Well-kept mountains and forests
· Easy to obtain effective head
· Flow is stable year-round
· Quality of water to be used is favorable (low influx of debris, leaves, driftwood and dirt) etc., etc.
Water rights
Falls into category of customary water rights/licensed water rights Does not require application for water rights (point where water from agricultural water channels becomes wastewater, point where river water flows into purification facility, etc.)